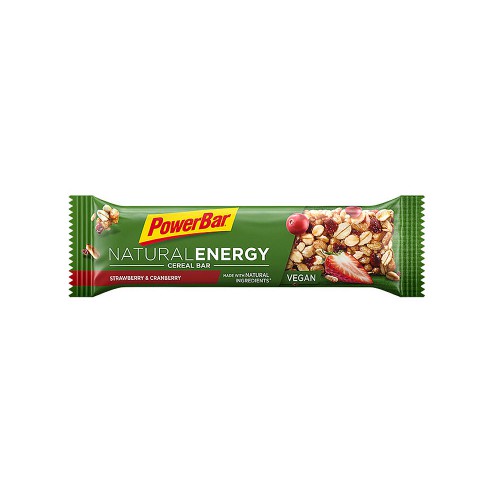 PRODUCT DETAILS
POWERBAR energy bar Natural Energy Cereal Vegan Strawberry & Cranberry | 24 bolt box
If you're out and about for a while or plan a workout later in the day, you'll want to meet your increased energy needs with delicious, natural products that are tailored to your nutritional needs as an athlete.
That's why PowerBar has developed the NATURAL ENERGY CEREAL bar: containing valuable carbohydrates from natural ingredients such as whole-grain oatmeal, delicious fruit pieces, peanuts or pumpkin seeds.
- with natural ingredients
- vegan (improved recipe with exclusively vegan ingredients)
- contains complex carbohydrates
- with extra magnesium to support the energy metabolism
- without dyes and preservatives
Crunchy bar for athletes with wholemeal oats, strawberries. candied cranberries and magnesium.
Wholegrain oatmeal flakes * (34%), glucose-fructose syrup, maltodextrin *, wholemeal crisps (11%) [wholegrain wheat flour *, rice flour *, sugar *, barley malt flour *,
wheat malt flour *, salt, rape seed *, acidity regulator (calcium carbonate) , Emulsifier (soya lecithin)], candied cranberries * (9%) (sugar *, cranberries *, rice flour *,
sunflower oil *), palm fat *, strawberries * (3%), soybeans *, magnesium citrate, lemon juice concentrate *, apple juice concentrate * , Salt, natural flavor *, humectant (glycerine), acid (citric acid), emulsifier (soya lecithin), vanilla extract *
* natural ingredient
May contain: peanuts, nuts, milk
Suggested
- 1 bar in the hour before the sport.
- During endurance sports, up to 90g carbohydrates per hour, depending on
Intensity and duration recommended. 1 PowerBar NATURAL ENERGY CEREAL bar delivers approximately 25g
Carbohydrates.
- 1-4 bars a day
- In addition to a varied and balanced diet and a healthy
Lifestyle.
Weight: approx. 40g (1 bar)

Delivery: 1x Box POWERBAR energy bar Natural Energy Cereal Vegan Strawberry &
Cranberry á 24 bar box
POWERBAR energy bar Natural Energy Cereal Vegan Strawberry & Cranberry