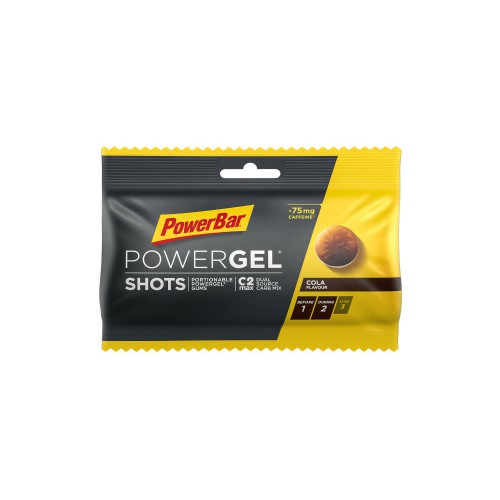 PRODUCT DETAILS
POWERBAR energy gums Powergel Shots Cola (with caffeine)
In order to be able to give everything in intensive training and competition, the body should be supplied with energy again and again during sports - depending on the in
tensity and duration, up to 90g of carbohydrates per hour! The PowerGel SHOTS deliver the same function as PowerGel with a scientifically developed combination of differe
nt carbohydrate sources. In addition, these are easy to portion and taste delicious.
- C2MAX Dual Source Carb Mix contains a 2: 1 ratio of glucose and carbohydrates
Sources of fructose
- 5 shots provide approximately the same amount of carbohydrates as 1 PowerGel
- unique taste with liquid gel filling
- Cola Flavor contains 75mg of caffeine per sachet for mental support
Efficiency
- with natural flavors - without preservatives
- 9 shots in a resealable bag, easy to portion
- Taste: cola
ingredient list
Sugar, glucose syrup, invert sugar syrup, water, gelatin, acidifier (citric acid), humectant (glycerine), natural flavor,
acidity regulator (sodium citrate), caffeine, stabilizer (carrageenan, locust bean gum), barley malt extract, vegetable fat
(coconut wax, palm kernel), coating agent ), black carrot juice concentrate, liquorice root extract
Recommended intake
- up to 9 SHOTS in the hour before the sport
- During endurance sports, up to 90g of carbohydrates per hour, depending on
Recommended intensity and duration. 1 POWERGEL SHOT provides around 5g of carbohydrates.
- in addition to a varied and balanced diet and a healthy one
Way of life.
- 1 sachet (for flavors with caffeine) per day.
- contains caffeine (125mg / 100g) - Not recommended for children and pregnant women.
Weight: 64g (1 bag), 60g (content only)

Scope of delivery: 1x pouch POWERBAR energy gums Powergel Shots Cola (with caffeine)
POWERBAR energy gums Powergel Shots Cola (with caffeine)